---
EllenWhite.info — The Ellen G. White Information Website
Did God send a prophet?
---
Return to http://www.ellenwhite.info/jesus.htm.
JESUS THE CHRIST
(Overview Page)
Ellen White had some profound insights into the life and work of Christ and the counterworkings of Satan, including his masterful impersonation of Christ in the time of the end. We have attempted to cover some of the highlights that relate the pivotal events and issues involved in Mrs. White's "Great Controversy" theme. We hope you will find it helpful as you investigate the works of Ellen White for yourself.
Christ's Incarnation and Mission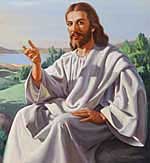 The more one studies the Bible, the more the reader discovers deeper insights regarding the life and work of Jesus. Ellen White uplifted Jesus as the Messiah—our Savior, our Example, and the world's greatest Teacher. Here are a few samples of her most popular works that focus with particular attention on the incarnation and mission of Jesus:
---